Visitors
ANMC is a gathering place where longtime friends celebrate life events, learn ways to maintain wellness and simply visit friends and family. Below are some tips and resources for ANMC visitors.
Balloons
For the safety of our patients with latex allergies, only Mylar balloons are allowed in the hospital. Latex balloons are prohibited.
Cell Phones
ANMC restricts the use of cell phones and walkie talkies in patient care areas of the hospital. Patient care and privacy is our first concern and these devices can interfere with the operation of medical devices and should be completely turned off when in restricted areas. Even in standby mode, cell phones can transmit a signal. Visitors wishing to use a cell phone are asked to use the Cafeteria, lobby or waiting rooms to make a call. Visitors are asked to not take pictures of staff or patients with picture phones.
Family and Visitor Passes
The main hospital doors are closed after 8 p.m. each evening and reopened each morning at 6 a.m. Visitors may enter through the Emergency Room entrance on the east side of ANMC. After 10 p.m., Security will have a screening desk set up. With approval from the nurses caring for the patient, they can issue after hours passes for visitors. You will be required to provide proof of identification to security before they will issue you a pass.
Flowers
Because of the risk of carrying disease-causing organisms that could be deadly to patients who are already in a compromised state, flowers and plants are not allowed in the Critical Care Unit. In addition, Stargazer Lilies are prohibited on campus, as their strong fragrance can trigger asthma attacks in people with allergies.
Food Cart
ANMC understands many people are unable to make it to the Food Court for a break. We have a day cart available for guests and staff with busy schedules. The cart is open 7 a.m.-2 p.m. Monday-Friday, serving breakfast items, sandwiches, hot soup, beverages, fruit and snacks. Food cart items are available for purchase by family and friends.
Maps
A map is provided here to help you get around the Alaska Native Medical Center.
Meditation Room
The hospital provides a room where patients, family members and visitors can sit quietly to meditate or pray. It is on the second floor of the hospital, at the end of the center elevator corridor.
Newspapers
Newspapers from around Alaska are on sale in vending machines just outside the hospital lobby.
Parking
Parking at ANMC is free. The Alaska Native Health Campus Map shows where patients, their families, and visitors may park. Please note that there are handicap parking spaces and elder parking spaces provided in various areas on the hospital grounds for your convenience. Elder parking is for our visitors over the age of 55.
Personal Belongings
Valuables and other belongings should be taken home.
Patient Privacy
Health Insurance Portability and Accountability Act (HIPAA) compliance and respect for the privacy of our patients and their family prohibits ANMC staff from answering questions about other patients.
Quyana House
Space at the Quyana House, our on-site patient lodging facility, is very limited. Patients with special needs and their escorts may be approved to stay there if requirements are met and space is available. Arrangements to stay at the Quyana House are made by the patient's Case Manager. Contact Quyana Care Coordination at (855) 482-4382 for more information on Quyana House and other options in the area.
Rooming In
ANMC staff understands the stress surrounding having a family member or close friend in the hospital. You are encouraged to take care of yourself by getting adequate rest and nutrition and leaving the hospital when possible. If there is any doubt whether you should stay at the hospital, please consult the medical or nursing staff. With the approval of the doctor, ANMC allows parents and other family members to stay overnight for the patient's comfort and reassurance. On the Pediatric Unit, parents are encouraged to stay with their child. Rooming in is allowed on the Mother/Baby unit if a private room is available to assure patient privacy. If you want to room in, speak with the nurse or doctor.
Smoking and Tobacco Use
ANMC is a tobacco-free hospital and we ask visitors to comply with our tobacco-free policy. Tobacco use is prohibited throughout the Alaska Native Health Campus.
Vending Machines
Vending machines for soft drinks and for snack items are located in the Emergency Department waiting area and on the lower level of Quyana Hospitality Services. Ask any hospital employee for specific directions.
Visitor Guidelines
Visitors of any age may visit in private rooms; however, visitors under 12 years of age must be accompanied by an adult. Visitors under 12 may visit in semi-private rooms, but for everyone's protection, it is requested that you check with the charge nurse first. Children, accompanied by an appropriate individual, may visit with an adult or guardian during regular visiting hours, which are 6 a.m.-9 p.m.
Wheelchairs
Wheelchairs are available for those campus patients and visitors that require extra assistance. The wheelchairs are for use on the Alaska Native Health Campus only. Please do not take the ANMC wheelchairs to the airport, home or any other off-campus location.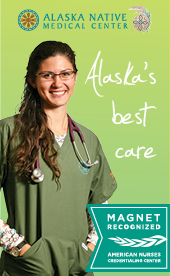 Magnet Status is the gold standard for patient care.
Learn More