News
Media Guidelines
The care, comfort and privacy of all of our patients at the Alaska Native Medical Center are of the utmost importance to our staff, and it is our responsibility to uphold those assurances. Our patients have the right to privacy and confidentiality, which is why ANMC requires that all media representatives coordinate interview and photograph requests through ANTHC (hospital) and/or SCF (primary care) Public Relations departments. After a media request is received, an ANTHC or SCF staff member will determine with the patient and staff whether the opportunity is possible and, if so, we will then coordinate the media visit, including meeting and accompanying media representatives through our facilities and to the patient.
Photography
No photos or video of patients may be taken without a Public Relations staff member first securing written permission from the patient.
Patient Privacy
Alaska Native Medical Center follows the American Hospital Association guidelines regarding patient privacy issues contained in the Health Insurance Portability and Accountability Act (HIPAA).
For More Information
For more information, please call Public Relations at (907) 729-1967.
Press Releases
Visit our press releases page here.
Media Contacts
Michelle Weston

Alaska Native Tribal Health Consortium (hospital inquiries)
Office: (907) 729-5653
Cell/text: (907) 351-2206
media@anthc.org
Jeanette Anderson Moores

Southcentral Foundation (primary care inquiries)
Office: (907) 729-5206
Cell: (907) 229-6925
scfmediarelations@scf.cc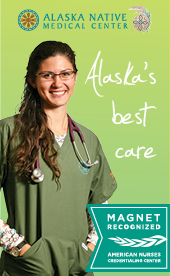 Magnet Status is the gold standard for patient care.
Learn More