Awards & Recognition
ANMC is accredited by the Joint Commission, a nationally recognized symbol of quality that reflects our adherence to the highest hospital performance standards.
ANMC is Alaska's only Level II Trauma Center, providing the highest level of trauma care possible in Alaska since 1999. ANMC serves as the referral center for all Anchorage hospitals and for every Tribal health facility in the state.
Since 2003, ANMC has been Alaska's only Magnet®-recognized hospital, the gold standard for nursing excellence. Less than seven percent of American hospitals achieve Magnet Status, an accreditation by the American Nurses Credentialing Center.
2012: ANMC earns the Gold Medal of Honor for Organ Donation from the U.S. Department of Health and Human Services for efforts that save and improve lives.
2012: ANTHC and ANMC receive the prestigious American Hospital Association's Carolyn Boone Lewis Living the Vision Award for their work in improving the health of Alaska Native and American Indian people through actions that go beyond traditional hospital care.
2012: ANMC earns Excellence in Patient Care Award for customer satisfaction and maintains clinical quality scores that exceed national standards.
2008: The ANMC Volunteer Auxiliary receives the prestigious American Hospital Association's Award for Volunteer Excellence.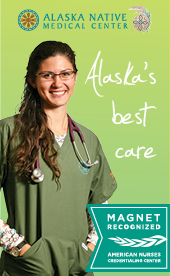 Magnet Status is the gold standard for patient care.
Learn More