Surgery
The Alaska Native Medical Center's (ANMC) Surgery Department provides general surgery for all ages including: Non-cardiac Thoracic; Laparoscopic; Vascular; Trauma/Burn; and Endoscopy.
ANMC's Department of Surgery provides outstanding comprehensive surgical services for all age groups. Our surgery facilities allow many patients to come in on the day of surgery and leave a few hours after surgery to recover in their own homes with family and friends. Your provider will let you know if your procedure requires a short inpatient stay.
Preparing for Surgery
Confirm Check-In Time
The day before surgery, call Day Surgery at (907) 729-1150 between 5:30-7 p.m. to confirm all dates and times.
Provide a working phone number so we can be in touch.
Check-in with your photo ID at the Admitting Office in the lobby of the main hospital to pre-register.
The Night Before Surgery
Refrain from eating or drinking anything (including mints, candy, gum, vitamins, water, etc.) after midnight, unless you have been told otherwise by your provider. For your safety, your surgery may be cancelled or rescheduled if you have anything to eat or drink after midnight.
Do not smoke or chew tobacco.
Day of Surgery
Take any blood pressure, heart, thyroid or chronic pain medications in the morning with a small sip of water. If you have diabetes, pleased do not take any blood sugar medication.
Do not eat or drink anything.
Do not smoke or chew tobacco.
Remove any makeup or fingernail polish.
Remove contacts, glasses, jewelry (including body piercings), dentures and/or hearing aids before entering the operating room.
Brush your teeth (avoid swallowing any toothpaste or mouthwash).
Wear loose, comfortable clothing and shoes.
Bring all medications you are currently taking with you.
Bring a book or activity for while you are waiting to be seen.
Please leave all valuables at home (this includes jewelry, cash, credit cards, checkbooks and anything else of monetary value).
Escort
For your safety, if your provider says you may go home after your surgery, you must have a responsible adult who is willing to care for you. The escort will need to stay with you for 24 hours and be able help you follow discharge instructions.
Checking in for Surgery
If you have not pre-registered, please check in at the Admitting Office on the first floor of the main hospital.
After pre-registering, please check in at the Day Surgery window on the second floor.
Before your Procedure
A team member will take your blood pressure, pulse, respiration and temperature.
For your safety, several members of the surgical team will ask you to identify yourself by stating your full name, date of birth and the procedure you are having.
All females of childbearing age will be asked for a urine sample to conduct a pregnancy test. (Women who have not had their period in a year or more or who have had a total hysterectomy are not required to have a pregnancy test.)
An anesthesia specialist will discuss your anesthesia options with you.
You will change into your hospital clothing and go to the holding area.
An intravenous (IV) line will be placed for your fluids and medications. Young children will have their IVs started after they are asleep.
Most of ANMC's General Surgeons are members of the American College of Surgeons and are instrumental in ANMC's Level II Trauma designation. The Surgery Department also has a General Surgical Residency program with the Phoenix Banner Health Residency Program. All of the Registered Nurse case managers who meet the criteria have a certification in case management in Surgery.
The Surgery clinic is where patients are screened and treated if they need to have some lumps and bumps removed using a local anesthetic. Larger procedures are completed in the Operating Rooms or the endoscopy suites.
The Surgery clinic has many resources for patients about their procedure.
ANMC's Surgery Clinic staff reminds patients to please get all of their health screenings completed as soon as they are due. Regular health screenings can detect and in most cases prevent the onset of cancer and other health-related complications.
The Surgery Clinic is open from 8 a.m.-5 p.m. Monday-Friday.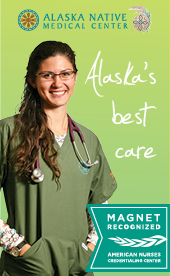 Magnet Status is the gold standard for patient care.
Learn More