Primary Care
Primary Care provides a full spectrum of primary health care services for adults and children, and provides support to the villages of the Anchorage Service Unit

.
Primary Care has developed integrated care teams built upon the medical home model. The customer selects a primary care provider. Each team has a provider with one or two medical assistants, a full-time nurse who focuses on care coordination and an administrative assistant who provides case management support. Additionally, the team concept has been extended by assigning specialists and ancillary providers to each primary care team.
The clinic is staffed by board-certified family physicians, nurse practitioners, certified physician assistants, registered dietitians, behavioral health consultants, registered nurses, licensed practical nurses, and certified medical assistants, as well as management and support staff.
» View all Southcentral Foundation Primary Care Services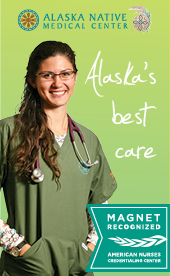 Magnet Status is the gold standard for patient care.
Learn More