Pediatrics
At the Alaska Native Medical Center (ANMC), our team works hard to provide the best possible care for the growth, development, health and wellness of your child. Like adults, children come to the hospital for various reasons ranging from observation to critical care. ANMC has an advanced Neonatal Intensive Care Unit (NICU) and a Pediatric Intensive Care Unit (PICU). Just as the NICU is equipped and staffed to care for premature and sick newborns, our PICU is equipped and staffed to care for children with the most serious complications or illnesses.
Research shows health outcomes improve as the number of certified nurses within a health system increases. We are proud that our inpatient pediatric nurses have achieved a specialty certification rate more than twice the national average for children's hospitals in the U.S. In addition, parents have rated customer satisfaction of the pediatric nursing staff and physicians among the best in the nation.
Providers and staff in the Inpatient Pediatrics Department care for nearly 1,000 children admitted to the hospital each year. The team of highly trained and experienced staff will do everything possible to make your child and family feel safe and comfortable while at ANMC.
The Outpatient Pediatrics Clinic is located in the Anchorage Native Primary Care Center (ANPCC) at ANMC. Your integrated care team consists of Case Management Support, who assists with scheduling appointments and follow up; a Case Manager that is a registered nurse to assist with care coordination and referrals, medication refills, test results, and more; a Primary Care Provider that is a medical doctor, a physician assistant or nurse practitioner to diagnose conditions and prescribe medications; a Certified Medical Assistant that assists with blood pressure, weight and height, blood draws, immunizations and screenings; a Behavioral Health Consultant that focuses on child development and behavioral issues; and a Registered Dietician.
Whether you are visiting an ANMC program for a routine back-to-school exam or your child is admitted to the hospital for a more serious condition, you can feel confident that your child is in good hands. Your child's health is our top concern.
ANMC Pediatrics services include:
Inpatient Pediatrics (for children needing to be in the hospital)
Pediatric Trauma (for children who get hurt in an accident)
Pediatric Intensive Care (PICU) (for the sickest children)
Surgical Services, including General Surgery, Orthopedics (bone surgeons), ENT (ear, nose and throat surgeons), and Neurosurgery (brain surgeons)
Pediatric Dental
Pediatric Subspecialty Care, including Pulmonology (lungs), Endocrinology (glands), Rheumatology (joints), Neurology (brain), Nephrology (kidneys)
Pediatric Outpatient Clinic
Pediatric Dietitian and Nutrition Care
Pediatric Audiology (hearing tests)
Pediatric Optometry and Ophthalmology (eye care and vision tests)
Pediatric Behavioral Health/Psychiatry
And more
ANMC Inpatient Pediatrics
(907) 729-1050
Located on the second floor of the ANMC hospital
ANMC Outpatient Pediatrics
(907) 729-1000
4320 Diplomacy Drive, Suite 1805
Anchorage, AK 99508
Hours:
8 a.m.-6 p.m. Monday, Wednesday-Friday
9:45 a.m.-6 p.m. Tuesday
9 a.m.-4:15 p.m. Saturday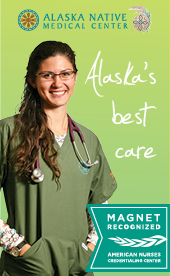 Magnet Status is the gold standard for patient care.
Learn More