Pain Management
Who We Are and Services Offered
The Comprehensive Pain Management Clinic specializes in neck and back pain as well as chronic pain syndromes. We make multimodal pain management recommendations that include pharmacologic, psychological, rehabilitative and other options. We also perform interventional procedures based on the patient's condition and pathology.
 Frequently asked questions
How do I make an appointment?
To make an appointment, you must first receive a referral from your primary care provider or another specialty clinic. Patients must complete a questionnaire before an appointment will be made. Patients previously seen in the Pain Management Clinic can call the clinic directly for an appointment.
Who do you provide services to?
We provide services to all Alaska Native and American Indian people living in Alaska.
Clinic Hours and Contact Information
Hours: 8 a.m.-5 p.m. Monday-Friday
Phone: (907) 729-2525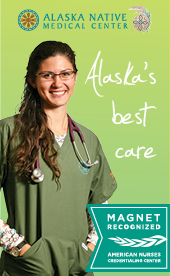 Magnet Status is the gold standard for patient care.
Learn More