Orthopedics
The Alaska Native Medical Center's Orthopedics Clinic provides highly skilled specialists who focus on the prevention, diagnosis and treatment of diseases of the spine, bones, joints, muscles and other parts of the musculoskeletal system.
Inpatient Orthopedics Unit
We have a special inpatient recovery unit located on the west side of ANMC's fourth floor. Our Inpatient Ward is a 23-bed unit that provides the highest-level of specialized staff and equipment to assist patients recovering from orthopedic surgery.
Our Services Include:
Orthopedic trauma for adults and pediatrics
Sports medicine
Specialized hand cases
General and pediatric orthopedics
Total hip and knee replacements
Shoulder, hip and knee injuries and disorders
Clinic Hours and Contact Information
Hours: 8 a.m.-4:30 p.m. Monday-Friday
Phone: (907) 729-1600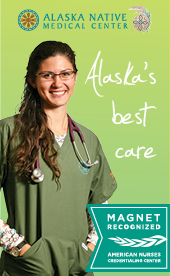 Magnet Status is the gold standard for patient care.
Learn More