Ophthalmology
Who We Are and Services Offered
Ophthalmology is a medical specialty dealing with the anatomy, physiology and diseases of the eye. An ophthalmologist is a specialist in medical and surgical eye problems. The ANMC Ophthalmology Clinic offers comprehensive referral-only eye care services and outpatient and inpatient consultations by board certified ophthalmologists. Members of our team have authored many publications on ocular research as well as the medical and surgical treatment of eye disease and trauma.
Our team provides medical and/or surgical management of a wide variety of conditions including:
Cataracts
Strabismus
Eyelid abnormalities
Prematurity related eye problems
Glaucoma
Eye trauma
ANMC ophthalmologists have vast surgical experience and or subspecialty fellowship and training in:
Pediatric ophthalmology & strabismus
Glaucoma
Cornea
 Common Misconceptions
A common misconception is that the Ophthalmology Clinic accepts walk-in appointments. Unfortunately, we do not accept walk-ins. You must receive a referral from your primary care provider or from another specialty clinic to access services in our clinic. If you have received a referral, please contact us to make an appointment.
Another common misconception is that the Ophthalmology Clinic performs routine eye exams for new glasses and or contact lenses. If you live in the Anchorage Service Unit (ASU), please contact the Optometry Clinic at Southcentral Foundation at (907) 729-8500. The Optometry Clinic provides eye care services that include comprehensive examinations, contact lens fitting, eye disease management, special testing, surgical referrals and a full service optical shop that provides eyeglasses, eyeglass repairs and contact lenses. If you live outside of the ASU, please contact your regional primary care provider for these services.
The ANMC Ophthalmology Clinic does not offer retina surgery (we coordinate care with Alaska Retinal Consultants in Anchorage) or Lasik or PRK.
 
Frequently Asked Questions
How do I get an appointment?
New patients need a referral from Optometry or their primary care providers.
If I think I have an ocular emergency how do I get into your clinic?
Go to the emergency room.  An ER physician will decide if referral is needed.
Do we fix or replace broken or lost glasses or fit contacts?
No. We do not offer optometric services. Please contact your primary care provider or the Southcentral Foundation Optometry Clinic if you live within the Anchorage Service Unit.
Patient Resources
Eye protection tip: Always use polycarbonate eye protection while fishing!

Clinic Hours and Contact Information
Hours:
 8 a.m.-4:30 p.m. Monday-Friday
Phone:
(907) 729-1400
Location:
3801 University Lake Drive, second floor
For questions regarding surgery and travel, please contact Janine Tolen at (907) 729-1437.
Please call in advance if you are not able to make it to your appointment. Many patients live outside of Anchorage and need time to travel. By calling in advance to cancel your appointment, it gives our clinic time to schedule another patient in that time slot.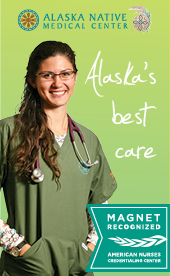 Magnet Status is the gold standard for patient care.
Learn More