Oncology & Hematology Clinic
The Alaska Native Medical Center's (ANMC) Oncology and Hematology Clinic offers the best in state-of-the-art and personal cancer care and treatment in an environment of hope and healing. We bring all aspects of care – from physician visits to lab appointments to the pharmacy – to our patients in one convenient location.
Our department sees patients that have been referred for the treatment of cancers or blood diseases. The Infusion Center administers infusions for adult patients needing chemotherapy, hydration, blood products, biologics, and other infusions.
Patients being seen for oncology and hematology services are encouraged to have an active say in their care and course of treatment. For issues that are not oncology and hematology related, patients still need to see their primary care provider.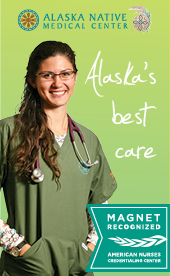 Magnet Status is the gold standard for patient care.
Learn More