Obstetrics & Gynecology
About
Having a baby is an exciting experience and we will do everything possible to make it enjoyable and memorable. The Alaska Native Medical Center (ANMC) works to provide services that best meet the needs of Alaska Native and American Indian families. Today, we are honored to serve as a trusted health partner for you and your baby. Our health care team specializes in caring for expectant and new mothers, and their babies. Your team includes board-certified OB/GYN physicians, certified nurse-midwives, pediatricians, anesthesia providers, registered nurses, pharmacists, dieticians, social workers, behavioral health consultants, discharge care coordinators, obstetrical technicians, certified personal service assistants and support staff.
ANMC offers a wide range of programs and services to assist new and expecting mothers. From childbirth education to lactation consultation to genetic counseling, we're here for you during this special time. ANMC provides OB/GYN services for the greater Anchorage Service Area and is the primary referral center for high-risk pregnancies within the Alaska Tribal Health System. In fact, more than 1,500 babies are delivered annually at ANMC.
The hospital provides private delivery as well as, private and semi-private recovery rooms. Each private mother baby room accommodates for a family member to stay with mom and baby. Our health care team of physicians, midwives, registered nurses and specialists care for you and your baby around the clock. We want to ensure that you receive the very best care. We also have a Level I newborn nursery, as needed.
Members of your team are experts in their field, in terms of medical expertise and their genuine devotion to the well-being of women and children. Your team is committed to ensuring you and your baby are provided the best possible care.
ANMC Obstetrics & Gynecology services include:
Gynecologic Services (women's health, not related to pregnancy)
Gynecologic Oncology (women's cancer)
Midwifery (pregnancy followed by a midwife)
Obstetrics (pregnancy followed by a doctor)
Health Education Childbirth Education Classes (breastfeeding, hypnoBirthing, Snuggle Time, etc.)
Perinatology/High-Risk Obstetrics/Maternal Fetal Medicine for high-risk pregnancies
Labor and Delivery
Neonatal Intensive Care (NICU/Special Care Nursery for sick babies)
Breastfeeding Support
Nutaqsiivik/Nurse Family Partnership (nurse home visiting program)
ANMC Obstetrics and Gynecology
(907) 729-3100
4320 Diplomacy Drive
Anchorage, AK 99508
Hours:
8:45 a.m.-5 p.m. Monday-Friday
ANMC Labor, Delivery and Postpartum
(907) 729-3200
Located on the second floor of the ANMC hospital
Construction Information
At the Alaska Native Medical Center (ANMC), the health care services we provide for women and children are referred to as Maternal Child Health (MCH) services. Those services include more than 20 clinics and programs located throughout the ANMC hospital and Anchorage Native Primary Care Center. These groups work together to provide a coordinated system of care equipped to handle the complete range of women's and children's health issues, from routine checkups to the most serious medical conditions.
ANMC's MCH services are rapidly expanding through upgraded facilities, additional services, and better access to care. We are creating a center of excellence for the highest quality care, as well as a place of security and comfort for women, children and their families.
As part of this commitment, we are in the midst of a multiyear renovation project to upgrade the Maternity Center, Inpatient Pediatrics and the Neonatal and Pediatric Intensive Care Units (NICU and PICU).
We have expanded our care teams in areas such as high-risk obstetrics (high-risk pregnancy care), pediatric subspecialties (care of the lungs, glands, joints, brain and kidneys), speech therapy and various others. New team members add expertise to an already impressive group of providers and staff, as well as help improve access to a wide range of high-quality and specialized services.
We have also boosted our employee and customer-owner outreach to help provide useful and consistent health resources such as service brochures, health information materials and webpages. Outreach efforts also include discussion groups, one-on-one interviews, and regular department presentations, which allow us to receive ongoing employee and customer input as we continue improving the MCH departments.
We look forward to hearing from you as we continue to work alongside the Alaska Native community to protect the health of babies, children, mothers, aunties and grandmothers across Alaska. Please contact Sandy Haldane at slhaldane@anthc.org or (907) 306-4533 to set up a tour of ANMC's MCH department or to share your ideas, questions and experiences.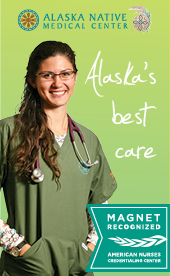 Magnet Status is the gold standard for patient care.
Learn More