Cardiology
Who We Are and Services Offered
The ANMC Cardiology Clinic offers care to adult patients with a variety of heart problems. Our providers commonly see patients who have coronary artery disease, heart rhythm problems, heart valve problems, heart failure and pacemakers/defibrillators.
ANMC cardiologists perform cardiac stress testing for patients with chest pain and diagnostic heart catheterizations at Alaska Regional Hospital. We also place pacemakers and defibrillators here at ANMC in the operating room. Our cardiovascular testing lab has technicians who perform sonograms of the heart (EKGs) and vascular system. We place event, holter and blood pressure monitors on patients, perform EKGs and can even check pacemakers over the telephone.
We have recently started a video teleconference (VTC) program to evaluate our patients remotely. The provider will dial into the remote site and examine the patient via live video. This new technology will improve compliance and communication in between visits, in addition to and saving time and money, as the patient will not have to travel all the way to Anchorage for routine visits. If you are interested in having a VTC appointment, ask your regional primary health care provider if they have this technology available for you.
Our cardiovascular lab is credentialed through the Intersocietal Accreditation Commission for our excellence in echocardiography and vascular testing. Our clinic routinely receives high marks in patient satisfaction.
Common Misconceptions
A common misconception is that all heart problems are urgent; some heart problems are, while some are not. Not all problems warrant immediate attention. Rest assured that a provider has reviewed your medical information and has immediately notified a nurse if your problem is urgent. With our limited staff and clinic space, not all patients are seen the same day. We understand that this may be a concern, but anxiety can also cause heart symptoms, so please try to remain patient, relax and know that your care is a priority and we will do everything to get you in to see a provider as soon as possible. If your problem is urgent, we will certainly get you in right away.
Frequently Asked Questions
My doctor sent a referral to your clinic, now what happens?
Your provider needs to send the referral with the appropriate information to our office. Every referral we receive is logged in our tracking system and documentation is attached. One of our providers then reviews the information and writes orders for the tests that they want to be done before they evaluate you. The referral then goes to the provider's nurse case manager who then makes the appointments in the timeframe indicated by the provider. Delays in this process can occur if your provider fails to send the referral, does not include all the needed documentation, or your contact information is not up to date and we are unable to reach you to make your appointment.
How soon can I be seen?
If your cardiac concern is medically urgent, you can be seen the same day or as soon as we can get you to Anchorage. If your need is not urgent we will get you in as soon as our provider indicates. Typically our clinic is booked three to four weeks out for routine visits. We try to be as flexible as we can, so if you have specific dates that you are available, we will try our best to accommodate your request. If the problem is not urgent, we generally try to coordinate the cardiology visit with other appointments or with trips to Anchorage for other nonmedical reasons. Please call our office as soon as you know when you will be travelling to Anchorage.
Why do I have to fast for blood work?
Yes. You are specifically being tested for your cholesterol levels and if you eat it can alter those lab results.
Why do I have so many appointments scheduled?
The provider reviews your medical information and may order a blood test, EKG or any other test they feel is necessary. Most of our patients require more than one appointment in our clinic. Please check in for each appointment, arrive at least 15 minutes early, and kindly call 729-4700 if you cannot make your scheduled appointment.
What is a stress test?
A stress test looks at the function of your heart under stress or exercise. Exercise makes your heart beat stronger and faster, which increases your heart's demand for blood and oxygen. Your doctor will look closely at electrical tracings and sonogram pictures taken while your heart is working its hardest to determine if there is a problem with your heart's arteries or its function. If you are unable to exercise a medication called dobutamine, which mimics the effects of exercise on your heart, may be given to you intravenously through an IV in your arm.
Patient Resources
Both websites are an excellent resource for patients and family members to learn more about their heart condition and recommendations to prevent heart disease.
It is so important to stay active throughout your life. Staying active can help keep your weight in check, increase circulation, prevent diabetes and heart disease, reduce stress, improve your muscle tone, keep your joints from getting stiff and fights depression. Find an activity that you enjoy doing often and get a friend to do it with you. A daily walk can do wonders for your well being.
Clinic Hours and Contact Information
Hours: 8 a.m.-4:30 p.m. Monday-Friday
Phone: (907) 729-4700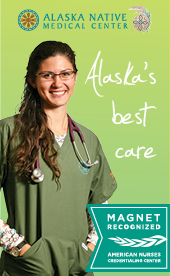 Magnet Status is the gold standard for patient care.
Learn More