5th Floor Inpatient Units
ANMC's adult inpatient medical-surgical units are located on the fifth floor. The two units on this floor, Five East (5E) and Five West (5W), each have 23 beds and a combination of single and double occupancy rooms. Single occupancy rooms are reserved for patients requiring isolation or special treatments. Both Medical-Surgical units provide care to adults who are hospitalized with a wide variety of conditions. Our providers and nursing staff also prepare patients for surgical procedures and provide the post-surgical care required until the time of discharge. Our Magnet nursing staff working in 5E and 5W has received extensive training and provide high-quality patient care, with many of our nurses having medical-surgical specialty nursing certifications.
Contact information:
5E Phone Number: (907) 729-1360
5W Phone Number: (907) 729-2380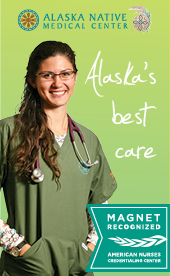 Magnet Status is the gold standard for patient care.
Learn More