Magnet® Nursing
In 2003, ANMC became the first hospital in Alaska to receive Magnet® designation for nursing excellence, a disctinction we still hold today. It is an honor that we are extremely proud of, and a distinction that we continually build on.
Magnet designation is the highest honor bestowed to a health care organization for nursing excellence. The Magnet Recognition Program® advances three goals within health care organizations: promote quality in a setting that supports professional practice; identify excellence in the delivery of nursing services to patients/residents; and disseminate best practices in nursing services.
Our Magnet® nurses provide culturally appropriate, family-centered care in a unique hospital environment. Patients travel to ANMC from communities across our large and geographically challenging state – sometimes covering hundreds of miles on boats, snowmobiles and small planes – and they represent more than 200 Alaska Native Tribes. To our patients, the work of our nurses is powerful and very personal.
Among ANMC's health care team, our nurses are viewed as respected partners, collaborators and leaders.
They are constantly seeking ways to improve the services and care we provide, from processes and initiatives to technology and equipment. Clinical excellence is the norm here. ANMC's nurses fuel our efforts in exceeding nearly all of the National Database of Nursing Quality Indicators benchmarks for hospitals with our bed size (100-199) and achieving excellent metrics for our core measures.
Our nurses strive to always improve their work and inspire their colleagues. More than 70 percent of our full-time nurses hold Bachelor of Science in Nursing degrees and 45 percent have sat for certification examinations. We live the Magnet culture here at ANMC.
Learn more about joining our world-class team.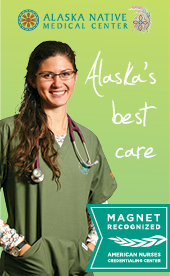 Magnet Status is the gold standard for patient care.
Learn More