Internal Medicine Clinic
The Alaska Native Medical Center's (ANMC) Internal Medicine Clinic focuses on the diagnosis and treatment of adult diseases and provides various services including: Dermatology (Skin, Hair and Nails); Diabetes; Early Intervention Services (AIDS, HIV); Endocrinology (Hormones); Gastroenterology (Stomach); General Internal Medicine; Hepatology (Liver Clinic); Infectious Diseases; Neurology (Brain and Nervous System); Neurologic Testing; Pulmonology (Lungs); and Rheumatology (Joints and connective tissue).
Dermatology
Dermatology offers a full range of general and surgical dermatologic services, including diagnosis, treatment and surgery for skin, hair and nails.
Diabetes
The Diabetes program provides a team-oriented approach to comprehensive diabetes care and education with both inpatient and outpatient services. A multidisciplinary team consisting of physicians, a nurse practitioner and a dietitian are available to care for diabetic patients who need an initial evaluation or assistance with ongoing care issues. The clinic provides consultative service for medical providers statewide, patient self-referral, and follow-up care for patient self-management education and complication prevention.
Endocrinology
Our Endocrinology team diagnose and treat hormone imbalances and problems by helping to restore a normal balance of hormones within the system. These include diseases of the pancreas, thyroid, parathyroid, ovaries, testes, pituitary and adrenal glands.
Hepatology
The Hepatitis clinic provides treatment and management of patients with liver disease. The clinical research program conducts long-term and short-term clinical trials for the treatment and prevention of viral hepatitis and liver diseases.
Neurology
Neurological Services provide treatment for disorders and injuries that affect the brain and nervous system. These conditions including cognitive disorders, epilepsy, movement disorders, multiple sclerosis, neurogenetics, neurorehabilitation, neuromuscular disorder and stroke.
Pulmonology
Pulmonary specializes in the diagnosis and treatment of problems relating to the lungs. The clinic offers comprehensive therapeutic and diagnostic services to adults with disorders of the respiratory system. Our highly qualified team includes pulmonologists, respiratory therapists, nurses and diagnostic technicians.
Rheumatology
Rheumatology consists of more than 100 conditions, including all forms of arthritis, certain autoimmune diseases, musculoskeletal pain disorders and osteoporosis. Our rheumatologists diagnose, treat and monitor chronic conditions, and work with each patient to develop an individualized treatment program.
The Internal Medicine Clinic sees all non-Anchorage Service Unit (ASU) patients for their health care needs when they visit Anchorage, unless they are younger than 18 years old or are being seen for a Women's Health visit. ASU patients are also seen on a consult-by-referral-only basis. This clinic does not see Pediatric patients or Women's Health patients unless they are being referred to an Internal Medicine subspecialty such as Neurology, Rheumatology, Dermatology, etc.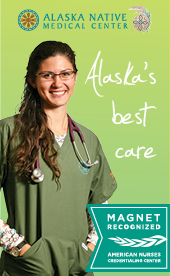 Magnet Status is the gold standard for patient care.
Learn More