Critical Care Unit
ANMC's Critical Care Inpatient Unit (CCU) provides comprehensive, holistic, and culturally sensitive multi-disciplinary management of critically ill patients from throughout Alaska. The service treats geriatric, adult and occasionally pediatric critically ill medical-surgical patients, trauma and cardiac patients. The support center provides care for those experiencing complex cardiac disease, pulmonary, renal, neurological, endocrine GI, vascular and orthopedic problems. The acuities of patients range from the most critically ill to the stable ambulatory patient requiring telemetry monitoring.
Cardiac, homodynamic monitoring and intracranial pressure monitoring
Cardio versions, trans-esophageal echos, endoscopies, continuous renal replacement therapy (CRRT)
Central line insertions, temporary pacemaker insertions and bronchoscopies on ventilated patients
Telemetry monitoring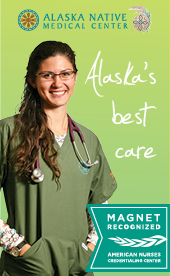 Magnet Status is the gold standard for patient care.
Learn More