About Us
As an acute, specialty, primary and behavioral health care provider, the Alaska Native Medical Center (ANMC) provides comprehensive medical services to Alaska Native and American Indian people living in Alaska. The center includes a 150-bed hospital, as well as a full range of medical specialties, primary care services and labs. The hospital also works in close partnership with Alaska's rural health facilities to support a broad range of health care and related services. As a statewide referral center, ANMC operates the Quyana House, a 56-room, 108-bed facility for out-of-town patients and their escorts. The Quyana House provides housing, travel services and Medicaid authorizations.
ANMC is jointly owned and managed by the Alaska Native Tribal Health Consortium (ANTHC) and Southcentral Foundation (SCF), and includes the hospital and the Anchorage Native Primary Care Center.  These parent organizations have established a Joint Operating Board to ensure unified operation of health services provided by the Medical Center.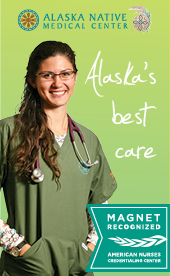 Magnet Status is the gold standard for patient care.
Learn More